Image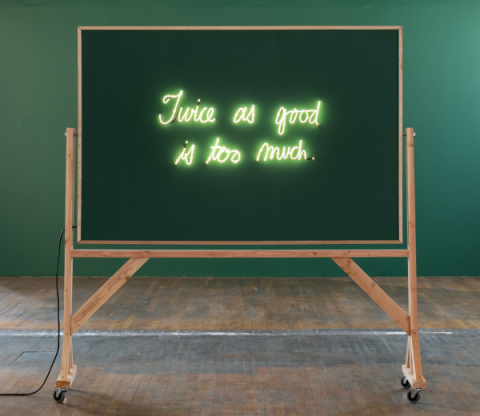 EJ Hill
EJ Hill, Occidental College's 2021/22 Wanlass Artist in Residence, is an artist committed to authoring objects, images, and experiences, which elevate bodies and amplify voices that have long been rendered invisible and inaudible by oppressive social structures. Rooted in an endurance-based performance practice, his work focuses largely on challenging the social aspects and systems that construct a body. Hill is interested in how bodies are formed, understood, and valued within different social and cultural contexts, but more specifically, how they redefine the parameters that govern which bodies are allowed to exist freely.
Initially, performance seemed the most natural and direct way of addressing ideas pertaining to the body; however, over the years Hill has developed a practice that includes writing, painting, sculpture, and installation. This multifaceted methodology has provided new ways of articulating propositions for being, while still maintaining a foundation of critique of oppressive social structures. At its core, Hill's current artistic output is steeped in a desire to move beyond representations of pain, violence, and struggle—aspects central to the experiences of subjugated communities, undoubtedly—and closer to more rounded, complex representations, which include the aforementioned, but also allow room for rest, refusal, beauty, and bliss.
Born in 1985 in Los Angeles, Hill received an MFA from the University of California, Los Angeles in 2013 and a BFA from Columbia College, Chicago in 2011. Hill is a featured artist in the 2022 Whitney Biennial, Whitney Museum of American Art, New York. His first solo museum show is forthcoming at MASS MoCA, North Adams, MA (2022). Solo exhibitions have been held at Radcliffe Institute for Advanced Study, Cambridge (2020); Company Gallery, New York (2018); Commonwealth and Council, Los Angeles (2017); and Human Resources, Los Angeles (2017). Selected group exhibitions include Prospect.5 New Orleans, (2021); the Los Angeles County Museum of Art (2021); Dallas Museum of Art (2019); California African American Museum, Los Angeles (2019); Aspen Art Museum (2018); Hammer Museum, Los Angeles (2018); Palazzo Contarini Polignac, Venice (2017); The Underground Museum, Los Angeles (2017); Institut d'art contemporain, Villeurbanne, France (2017); PinchukArtCentre, Kyiv (2017); and the Studio Museum in Harlem, New York (2016). Hill's work is in the collections of Dallas Museum of Art, TX; Hammer Museum, Los Angeles; Institut d'art Contemporain, Villeurbanne, France; Los Angeles County Museum of Art, CA; The Studio Museum in Harlem, New York; and Whitney Museum of American Art, New York.
Much of what he knows, he has learned from: Estelle Thompson, Karen Thompson, Ernest Hill Jr., Margaret Nomentana, Joan Giroux, Adam Brooks and Mat Wilson (Industry of the Ordinary), Andrea Fraser, Mario Ybarra Jr., Na Mira, Matt Austin, Young Chung, Jordan Casteel, TLC, Lauryn Hill, and Augie Grahn. He is forever indebted to these educators and thanks them endlessly.