The Wanlass Artist in Residence is OXY ARTS' year-long residency program that allows an artist to investigate aspects of their practice and share it with the College campus-wide. The program encourages cross-campus collaboration and thoughtful sustained interaction between artist, students and the community.
Publications
OXY ARTS regularly publishes catalogues for Wanlass resident artists.
To learn more about these publications and/or purchase a copy, please email oxyarts@oxy.edu. 
The Wanlass Artist in Residence Program is made possible by generous support from the Kathryn Caine Wanlass Charitable Foundation.
---
2022/23 Wanlass Artist-in-Residence
Kenturah Davis
Image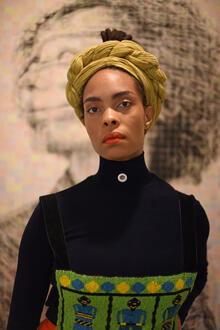 Kenturah Davis is an artist working between Los Angeles and Accra (Ghana). Her work oscillates between various facets of portraiture and design. Using text as a point of departure, she explores the fundamental role that language has in shaping how we understand ourselves and the world around us. This manifests in a variety of forms including drawings, textiles and objects. Her work is in several institutional collections and has been included in exhibitions internationally. She has also been a contributing writer for publications including the LA Times and Brooklyn Rail. She currently teaches at Occidental College in the Art and Art History department. Davis earned her BA from Occidental College and MFA Yale University School of Art.