September 19, 2021
| 11:00am TO 2:30pm
Share
2021-09-19 11:00:00
2021-09-19 14:30:00
"Encoding Futures: Speculative Monuments for L.A." Offsite Launch
<p>View the original augmented reality artworks created during our virtual summer residency program.</p>
America/Los_Angeles
public
​​After three months of intensive research, development, and creative production, our resident artists have completed their original augmented reality monuments for a future Los Angeles. 
Join Oxy Arts on Sunday, September 19th to view these new artworks for the first time via the 4th Wall app. Timed activations are planned for each site (information below), or stop by anytime between 11am - 2pm to view the artworks. 
You're invited to travel to all four sites throughout the day. The sites are all accessible by Metro. The artworks will be hosted indefinitely in the 4th Wall app and can be viewed at any time after the launch. Instructions on how to use the app are included below.
Patrick Martinez, Homegrown
11am, Artist talk and interactive sticker making activity 
Viewing location: Empty Lot at the NE corner of Figueroa and Arroyo Glen, 6144 N Figueroa St, LA, CA 90042
Metro station: Highland Park Station - Gold Line 
Joel Garcia with Meztli Projects, Astrorhizal Networks
12pm, Artist talk and performance 
Viewing location: Yaangna Park, 540 N Los Angeles St, LA, CA 90012
Metro station: Union Station - Gold, Purple and Red Line
Nancy Baker Cahill, Motherboard
1pm, Artist talk and interactive demo with Fem-Synth Lab
Viewing location: Grand Park, across the street from City Hall, 231 N Spring St, LA, CA 90012
Metro station: Civic Ctr / Grand Park Station - Purple and Red Line
Audrey Chan, The Assata Center
2pm, Artist talk and seed bomb making activity
Viewing location: NE Corner of 8th Street and Columbia, 1313 W 8th St LA, CA 90017
Metro station: 7th Street / Metro Center Station - Red Line
Image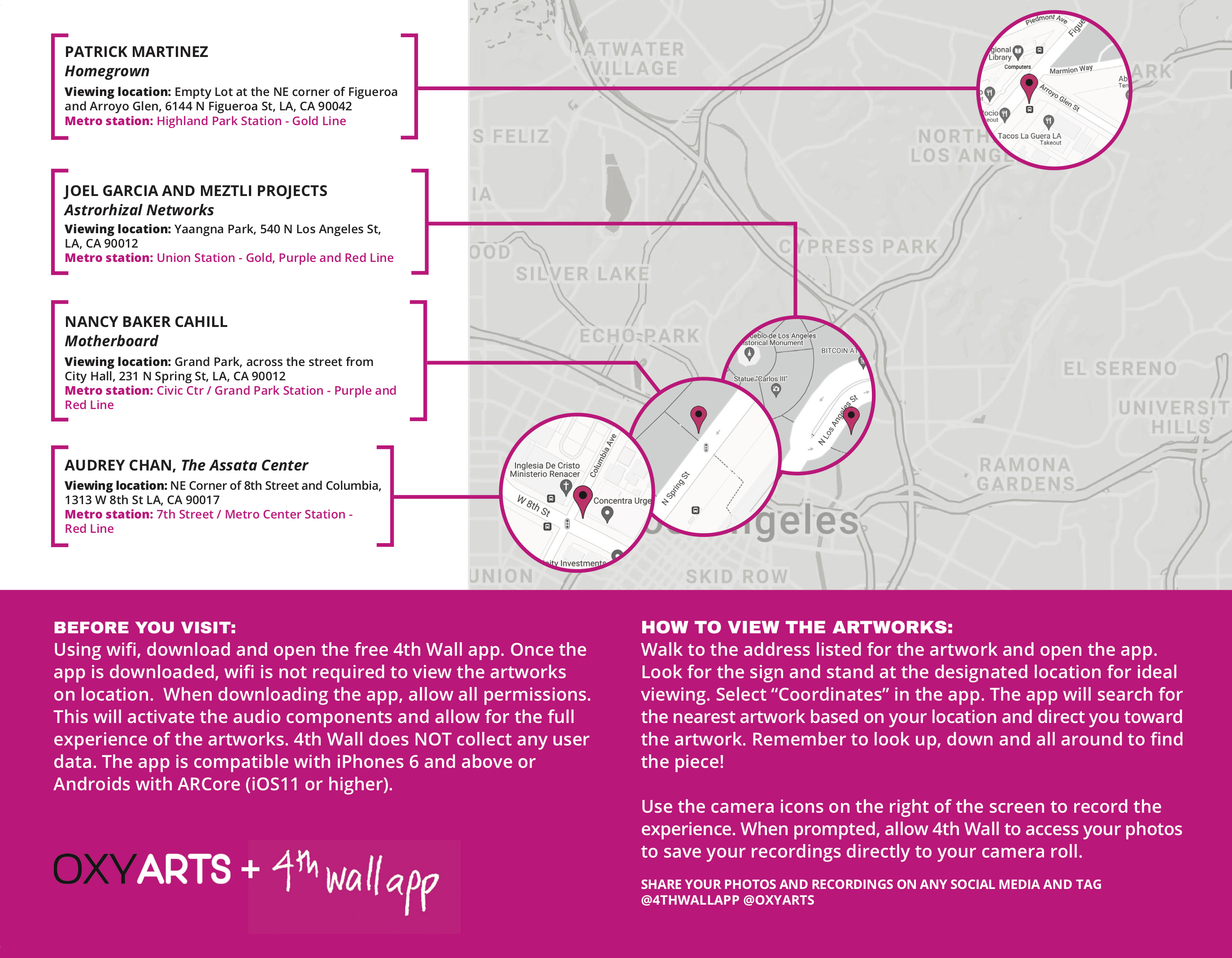 Before you visit: 
Using wifi, download and open the free 4th Wall app. Once the app is downloaded, wifi is not required to view the artworks on location. 
When downloading the app, allow all permissions. This will activate the audio components and allow for the full experience of the artworks. 4th Wall does NOT collect any user data.
The app is compatible with iPhones 6 and above or Androids with ARCore (iOS11 or higher).
How to view the artworks:
Walk to the address listed for the artwork and open the app. Look for the sign and stand at the designated location for ideal viewing. Select "Coordinates" in the app. The app will search for the nearest artwork based on your location and direct you toward the artwork. Remember to look up, down and all around to find the piece! 
Use the camera icons on the right of the screen to record the experience. When prompted, allow 4th Wall to access your photos to save your recordings directly to your camera roll.
Share your photos and recordings on social media and tag @4thwallapp @oxyarts
The prompt for the artworks was to conceive an AR blueprint for a site-specific imagined future in Los Angeles, with a focus on future technologies that might transform public space. Artists were invited to choose any site in Los Angeles, and to consider how past and present social, economic, and cultural inequities, power imbalances, and other forms of subjection might operate in that space. The prompt encouraged artists to imagine a radically equitable future sited in an emergent present; and in the process to consider if and how new forms can reckon with the way monuments have historically functioned as agents of oppression.
This project is presented in conjunction with the opening of Encoding Futures: Critical Imaginaries of AI at Oxy Arts—a group show, co-organized with Berggruen Institute Associate Director of Research Mashinka Firunts Hakopian, spotlighting cultural producers whose work engages emerging technologies as tools for expanding political imaginaries and blueprinting radically just, equitable futures. 
This project is​​ made possible with the generous support of The Andrew W. Mellon Foundation.